Simplicity, reliability, and precision are the standards for double seam inspection. OneVision's SeamMate® System is the canning industry's most powerful turnkey system to inspect double seams and provide easy-to-use information to ensure double seam quality.
SeamMate® Double Seam Inspection
OneVision® gauges, vision systems, and inspection products provide accurate data on critical dimensions and visual characteristics of your double seams. The SeamMate® System provides information that helps maintain and predict double seam quality. By delivering both predictive and preventive intelligence, SeamMate® becomes an effective tool to help achieve continuous process quality improvement.
Capabilities
Fast, accurate user-friendly gauge systems
Database storage for all can specifications and measurements
Easy access to data for meaningful display, analysis or reporting
Easy-to-use SPC graphics with OneVision's AutoAlert™ process tracking
Seamer Condition at a glance on desktop using SeamVision™
SeamMate fits in your network environment providing process information on your desktop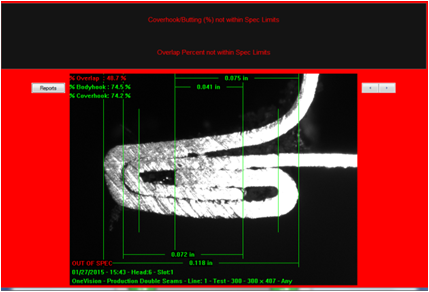 SeamVision Screen and Sample Production Report
Click Click button below to learn more.