Simplicity, reliability, and precision are the standards for double seam inspection. OneVision's SeamMate® System is the canning industry's most powerful turnkey system to inspect double seams and provide easy-to-use information to ensure double seam quality.
SeamMate® Double Seam Inspection
OneVision® gauges, vision systems, and inspection products provide accurate data on critical dimensions and visual characteristics of your double seams. The SeamMate® System provides information that helps maintain and predict double seam quality. By delivering both predictive and preventive intelligence, SeamMate® becomes an effective tool to help achieve continuous process quality improvement.
Capabilities
Fast, accurate user-friendly gauge systems
Database storage for all can specifications and measurements
Easy access to data for meaningful display, analysis or reporting
Easy-to-use SPC graphics with OneVision's AutoAlert™ process tracking
Seamer Condition at a glance on desktop using SeamVision™
SeamMate fits in your network environment providing process information on your desktop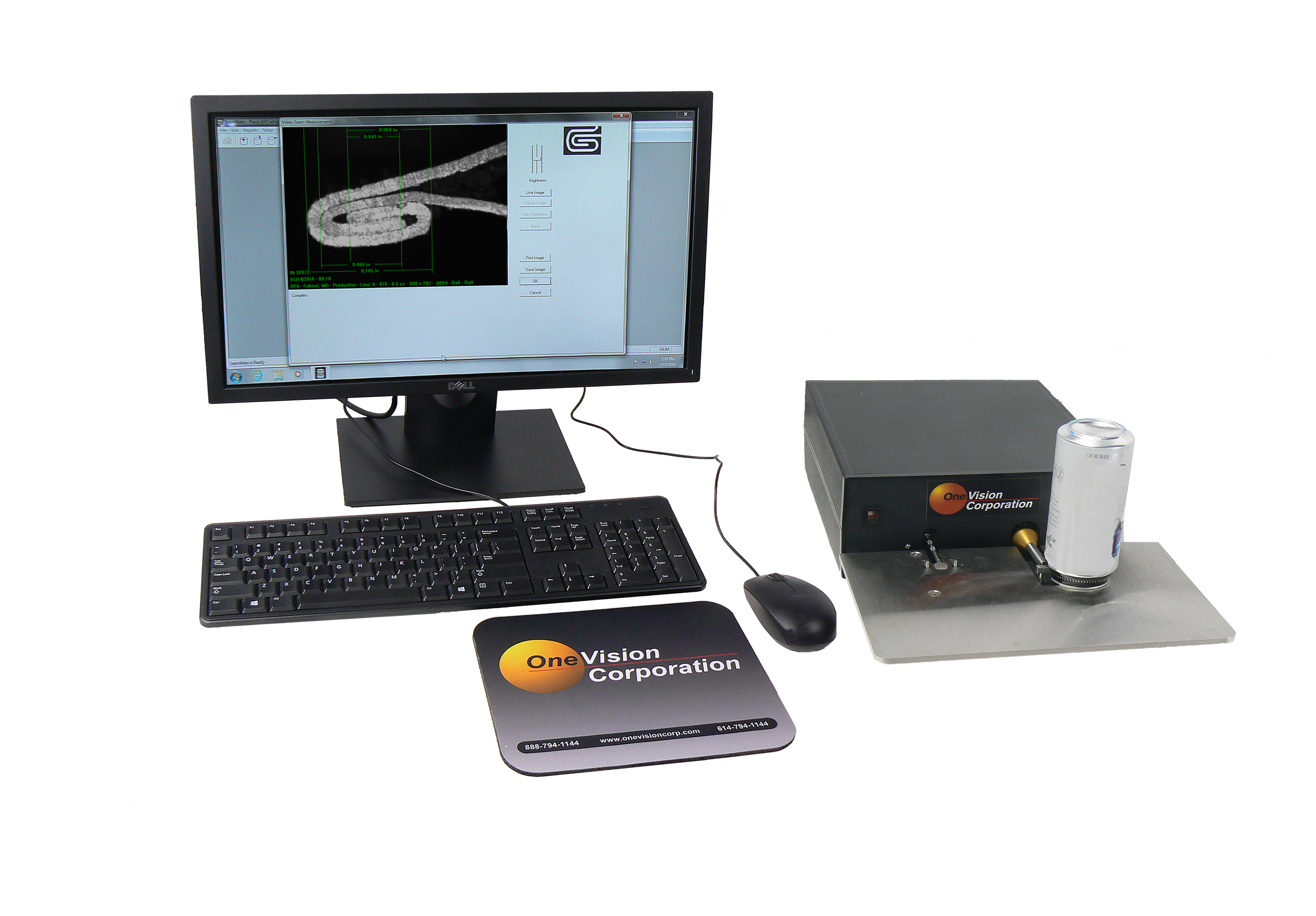 Why SeamMate®?
Safety, Organized Data, Graphical charts and graphs, and Speed = Cost Savings
1) Labor Savings. SeamMate® can reduce the total labor required by 40 to 50% to tear down seams, take measurements, compute seam overlap, analyze and plot the data. The results are held in file and the recorded information is accessible at a later time.
2) Seam Quality Enhancements. With our SeamMate® system, you can determine a great deal about the quality of the seam when you look at it's cross-sectional on-screen image. You then have the ability to see localized distortions of the double seam that can't be seen using manual methods. Seam bumps, seam balance, seam distortions, and overlap are easily evaluated resulting in less downtime and fewer product hold events.
3) Seamer Maintenance Costs. SeamMate® trend charts and SPC charts help experienced seamer mechanics quickly determine when and where seamer adjustments are needed. Seamer wear can be spotted with our trend charting and histograms. This reduces product holds; saving you time and money.
4) Seamer Tooling Costs. Our historical trend charting showing seam dimensional trends, helps you quickly pinpoint the real cause of seamer problems, often preventing unnecessary seamer tooling changes.
5) Resolving Process Problems. It is often difficult to determine whether the cause of a seam problem is in your process or the can vendor's process. SeamMate® saves valuable management time by providing readily available facts and graphics to diagnose and explain the cause of a problem.
6) Seam Technology Training. SeamMate® training provides seam technology insight plus a standard and consistent set of techniques for personnel to use for seam measurements. When Everyone measures seams the same way, there will be fewer incidences of discrepancies, and more consistencies in measurement between inspectors and shifts
7) Seam Bumps are more easily identified on the screen, as well as noticed when measuring the thickness of the double seam
8) Safer Method of Evaluating Seams…. When using the SeamMate® System, there are fewer sharp corners from which to get cut, compared to hand teardown methods. The OneVision® Seam Stripper eliminates hand teardown to evaluate a seam. Hand teardown procedures are very rigorous to the hands and wrists therefore, expensive loss time cuts, and injuries such as carpel tunnel are eliminated saving you money and increasing employee productivity.
9) More precise method of Evaluating Seams, with our cross-sectional measuring equipment everyone measures the seam using the same techniques. So, repeatability and accuracy from one evaluator to the next are more consistent.
10) Managers are able to review the Double Seam Process, Seam reports, images, and SPC graphical charts from their office computers using Report Station.